Do you know the best compliment that you can ever say about someone? "That person is so honest, you can trust him." The same applies to you. That is the best compliment anyone can say to you.

Honesty between friends is very important. You want to trust your friends, don't you?

Honesty comes by keeping yor word, and not cheating anyone. To have a friend, you can always count on his promises. A friend keeps his promises.

I have such a friend. His name is Jesus, my Big Brother Christ. He wants to be everyone's friend. All His promises made to us have been kept and fulfilled. Every single promise made to us has been kept. He is an honest person. He is not our Brother out there somewhere. No, He lives within our midst, in our hearts. We are all part of the Mystical Body of Jesus Christ.

Do you know what breaks the Body of Christ? It is when we cannot forgive a brother or sister in Jesus Christ.

We call ourselves Christian! Did you ever hear someone say "This person has hurt me for the last time. Let me tell you, I'll never speak to that person as long as I live." Is that Christian? Never! That is a long time. What if you are now 25 or 30 years old and live to be 90 years old? Sixty years is a long time.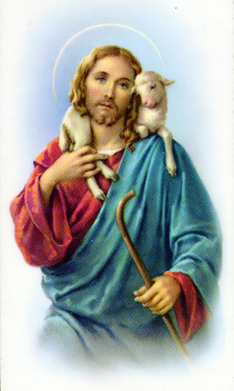 In the meantime, you keep being a good Christian. Go to Mass, receive Communion and pray. Skip Confession, who needs it! Not I, after all I am a good Christian.

Yes, I am keeping my brother or sister in prison; because I'll never talk to her or him again the rest of my life.

We have to realize, we all belong to the Body of Jesus Christ.

Did you ever get up in the morning and start by inviting the Sacred Heart of Jesus and the Immaculate Heart of Mary and your Guardian Angel to share the day with you, and thanking them for having watched over you during the night?

Getting dressed, you look in the mirror and what do you see? Part of the body of Jesus Christ. Say! That is powerful. Part of the body of Jesus Christ!

I better conduct myself as His imitation. That is what a Christian should be. Well, if I am never going to talk to my brother or sister for the rest of my life, how can I conduct myself as part of the Body of Jesus Christ, which is what a good Christian is supposed to be. Not being able to forgive one another is called an impure heart.

Would you wear the same clothes all week? Or, would you put it in the washing well if it is not that dirty? Still, you would put it in the wash because after a week it would stink. You would not wear your blouse or shirt if it had a small spot on it.

Then why skip confession? Why go around with a dirty soul?

Confession has the same effect on your soul as washing your clothes. Yet, we skip confession because we are not that bad, or that dirty, we don't have a mortal sin.

Many times we don't feel good when all we need is that added grace. It can be found in the laundry room. It is called confession. It is good for the soul, mind and body. It is the grace of reconciliation with Brother Christ.

Confession is very important to one's life. We need it to keep God's instrument clean of all the dust that small sins create.

What would happen if you kept your garbage bag in your kitchen all year? You would have no room to work, and it would stink. It is the same with our souls.

Also our minds! If we keep our minds full of this world's trash, then there would be no room for the Spirit to work. We are crowding our God out. A mind that is full of this world's trash cannot be at peace to praise and pray as it should be to our God, who is the Alpha and the Omega. The Beginning and the End.
Peace Be With You
Bernadette G. Cyr