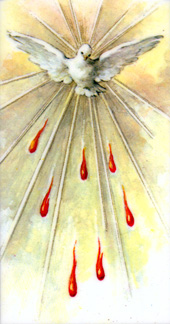 God has a provisional plan for the direction and decisions in our lives. But, how can we know what He wants us to do? He wants us to take "Prime Time" for Him.

Take time for Him who loves you so much He died for you, nailed to a Cross. That is immense love. Quiet down the voice of emotion and listen to the voice that speaks in your heart, not in the intellect, but in the heart.

The Voice of the Beloved speaks. We must yield our hearts to Him completely, also our minds. If not, then we live without learning how to submit the use of our minds to the Lord. Many Christians seem to be simply not understanding that the Holy Spirit can work in our hearts, and He does. We must give Him full control of our hearts.

For some reason, if we think that the only way the Holy Spirit guides us is through prophesies and visions, we will miss much of His guidance. The Lord is always teaching us. As St. Paul says, we are maturing in Christ. The Lord, however, cannot teach us if we refuse to be 100% His in the heart. We have to cooperate with Him. Pauls tells us in (Ephesians 4:22-24) "that you should put away the old self of your former way of life, corrupted through deceitful desires, and be renewed in the spirit of your minds, and put on the new self, created in God's way in righteousness and holiness of truth."
Many are still in doubt that day is day and night is night, so should you believe that the Word of God is the truth and nothing but the truth. God wants us to give Him our hearts, for when the heart is renewed, conversion and prayer life will take place.

As you believe that day is day and night is night, so should you believe that the Word og God is the truth and nothing but the truth. God wants us to give Him our hearts, for when the heart is renewed, conversion and prayer life will take place.

We must listen to God. We all have heard more from the Lord than we have yet been able to absorb or understand. Why? Becaause we don't pay attention to what He tells us. The Lord Jesus Christ speaks to us a great deal. More than we listen. He speaks to us in Holy Communion which brings the most perfect union with Jesus that is possible in life. He speaks to us in Blood and Flesh, which we come in contact with in our daily lives in our Brothers and Sisters. He speaks to us in Scripture, also through experiences in life.

He speaks directly in our hearts, if we take the time to listem. We can trust God, for trust is oneness with God. Do you trust God to the point of living your life on earth doing His Will? Trusting someone is to believe in that person. Do you believe enough to find the real strength you need in the Eucharist?

Do you believe enough to offer the rhythm of your heart beats to God? This may seem like nothing to you, but the heart is your entire life for if the heart stops, life on earth stops. Yes, if you trust God, you'll place your heart in His Hands and you will offer each beating of your heart in unity with His. Yes, we can trust God and know with our hearts that He will work things out for us, even when we do not seem to know what He wants of us. God has a provident plan for our lives.

Be very attentive to the voice that speaks in your heart. Your life will become more and more easier because you will have moved aside and given Him your heart 100%. You will know without a doubt, "My God Loves Me." You will hear hear His voice say, "I Love You." The more we serve Him by giving Him the reign of our hearts, the more we love Him. At this point we will be giving our Brothers and Sisters "His Love", not ours, which is only human love. His Love is Eternal.

He is the Pearl of our life. Once we discover this in our own lives, we will discover unity with Him. We then realize Our Baptism which has welded us to Him. We are His Cells, His Members, isn't it great?

Conversion is not easy, it is an everyday job. As St. Paul says, we are maturing in Christ. If we are Cells, Members of a body, then we should do all we can for the person we are a member of. Would it not be foolish for a member (hand or leg) to try to cut itelf away from the Body? That Member would in effect, be throwing itself away, destructing itself. How come some people are doing just that? Pulling away from the Church which is the Bride of Jesus? We are the Body, He is the Head.

Peace Be With You
Bernadette G. Cyr