We cannot not cook with a stove that is not connected. We cannot make toast in a toaster that is not connected. We cannot make the washing machine workd if it is not connected. We also need to be connected to receive the strength and power of Almighty God. We need electricity to switch on a light. Without it, we would use candles because we are not connected. In the spiritual life sometimes we have no electricity. Instead of being illuminated with the Spririt of the Living God, we use candles. We have no zeal because we are not connected to Jesus, who is the light of the whole world. We need to be aglow with the light of Jesus. We are called to be the light to others. But first, we must have the light of Jesus in our own life. There are many of us who only have an idea of who Jesus is because we have never had a personal encounter with Him. The light of Jesus is in the heart, not in what the intellect learns in books. You have to have a personal encounter with Jesus. As long as we haven't had this personal encounter with Jesus, who is alive in our hearts, we will stay at the level of the intellect.

A Christian who calls on the Spirit of the Living God daily for an infilling of His Spirit will know that Jesus is alive, that yes, He had kept His promises. "I must go so that the Paraclete will come to you, and when He comes He will guide you, teach you and console you." (John 16:7-16)

I would like to take a little time to share about Our Beloved Jesus in my own life. Many of you have already heard about the 33 years of my sickness up until the time that Our Beloved Jesus healed me, that was my personal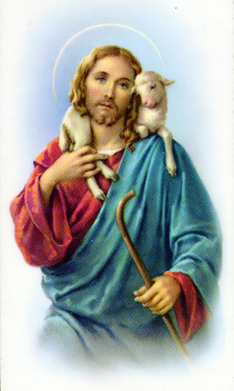 encounter. I want to share that in my life Jesus was always there, but while I was sick and the years before my healing I knew Jesus in a different way. Since my healing, I know Jesus lives today in all of us. The more we talk to Him and invite Him in every area of our lives, the more you can proclaim the good work of Jesus. The love of Jesus is always with us. Jesus is the same today as He was 2,000 years ago.

In my life I have seen the power of the Holy Spirit working with His people. These are good years for the church. The Spirit of the Living God is shaking and renewing His church. Praise God. I have seen with my own eyes the blind see, the deaf hear, the lame walk. I have seen some walking in darkness returned to the light after 25 & 40 years. The Spirit of the Living God is revealing himself to His people and this can be connected to the story of Jesus in the Gospel healing His people, as it is written in Luke 7:22. Today we need to see the healing power of God.

There was a man in October 1992 at the Little House of Prayer who was paralyzed on the left side from a stroke. He had been that way for 3½ years. He was healed instantly by the power and strength of the Living God who lives among us today.

A little girl in my town had a blood condidtion. The great grandmother came with a picture of her. This little girl was going to die. She was healed by the Spirit of the Living God. A woman from Wells, Maine had an open ulcer in her leg and came here with a priest. It was open to the bone. She was healed. At another healing service seven people regained their hearing, some in one ear, some in both of their ears. A man from Canada, at a healing service up north, was healed of phlebitis of both legs. They wanted to cut off one of his legs. He had dark blue lumps all over his legs. He was healed. I felt the lumps dissolve under my hands through the power of the Living God. A yound man regained 90% of his eyesight at a Healing Service at the Little House of Prayer. He had come here with a priest who was his Spiritual Director. A young woman of 23 was hit by a car. She had not walked for 5 years; she walked instantly. A priest was healed of colon cancer. A woman 7½ years in a wheel chair could not talk or walk; she is talking now and walking.

I've seen, "Yes, I've seen the power of the Living God amongst us healing His people in body, mind and in soul." I've seen couples married 11, 13, 14 years who were without children. They wanted children and the did get pregnant. Many, many things the Spirit of the Living God has shown to me. I' not bragging, I'm boasting in the Lord as it is written in 1 Corinithians 1:31: "Whoever boasts, should boast in the Lord." I was afraid to talk about what I have seen, and that's another lesson the Spirit of God had to show his slow learning daughter. I am a witness that God loves His people. I am a witness that God is a merciful God. I am a witness that God will work with whom He chooses. My eyes have seen the merciful love of God. One thing I've learned is that we are clay vessels and we will remain clay vessels. We have no power, but we have to be there in perserverance and the Spirit of the Living God will do the rest. In a healing service or any assembly or breakfast service, it matters not the numbers, whether there is 20, 1,000 or 2,500. Whoever the Spirit of God brings, they are all children of God.

The Spirit gave me a song which many of you have heard:

"I Am A Child Of God"

REFRAIN:
I am a child of God, I am a child of God.
I live in His Love, I am a child of God.

1. Deep down in my heart, I have moved aside.
I made room for Him, who has paid the price.

2. He has called me by name, And I heard His call.
I recognized His gift, For I am a child of God.

3. His call is irrevocable, I must follow Him.
And bring others to His Love, So they can pass it on.

4. A call to discipleship, is to spread the good news.
That is given to us, in the Word of God.

Copyright 1989: Bernadette G. Cyr.
Peace Be With You
Bernadette G. Cyr