Many people get healed through the Sacred wounds of Jesus, for His wounds give true life.

At times, the person will not be healed for the petition prayed for, but you can be sure some unseen healing is taking place. And the person being prayed over will sometimes break out in tears. Some type of healing has taken place, as to what kind we might never know, because we do not have the need to know. We are there to pray. If Jesus chooses to show us a healing, it is a grace. Let us praise Him for it.

At times, the person will experience a great calmness coming over them, that is a type of healing. Also the sensation of heat, sensation of tingling all over the body, that is also a sign of a healing taking place. Many times, none of this will take place. But two or three days later the person might notice that they have received a healing. Sometimes, it can take longer than two or three days. But it is up to God.

When using the Sacred Wounds of Jesus, be always at Peace with them. Never fear to have all confidence in His Sacred Wounds. This might take some time to get used to, but have no fear, persevere, and you will feel His presence with you nearer day by day.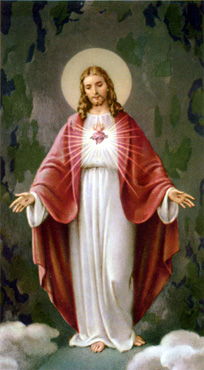 Pray like everything depends on you. But, leave the work to Jesus because everything depends on Him. None of your prayers will be for nothing, for prayers are perfume to God.

There are many factors involved in the healing ministry, and it remains a mystery, as to why some are healed and others are not. It lays in the hands of the Divine Providence. It is our Blessed Lord who does the healing, not us. Some people cannot understand that, and it is very sad. Divine healing is a freely given gift from the Divine Providence. What is required is not faith in the person doing the praying, but faith in our God.

The real point, in the healing ministry, is the Spiritual awakening it promotes. And, it is very important that people witness to the healing that they have received, through the healing Love of our God, not the one praying over you, asking for the healing. The praying minister is only an instrument that God wishes to use. For by ourselves, we are nothing.

Once again, it lays in the hands of the Divine Providence as to who gets healed. When a person experiences this type of waking up, in the person of Jesus Christ, they should want to tell the whole world, and they should witness. They must witness about their experiences by sharing with other people about what God has done for them personally.

The gift of healing is given freely by God to help build up the faith of other brothers and sisters in our communities, to build up the whole church. When we have a calling to the praying ministry, it should always be taken seriously. We all should strive to talk to God always, and to pray for the people in front of us. When we ask someone to keep us in their prayers, we are counting on those prayers. If those people forget, we won't get much help, will we? So, when we ask someone to pray for us, we expect that they will. We should keep every day in our prayers the people asking for prayers. When we say: "Yes, I'll pray for you" that yes is said to the Lord. For the person asking for prayers is part of Jesus Christ. "He is the Head, we are the body".

We must always keep ourselves in the Grace of God. We must go to confession often to receive that added Grace. Confession is a Sacrament. We need it often.

One thing to be remembered is that God the Father will use some of you more than others in the healing ministry, but the one being used the most is no better than any of the others, as a person. Once again, who will be used more? That is up to the Divine Providence.

Now, when some are used more than others, they should be supported by the prayers of others, the prayers of the community. Please don't look upon the gifts as to who has them and who doesn't. But do praise God for the gifts the community has received as a whole.
Peace Be With You
Bernadette G. Cyr