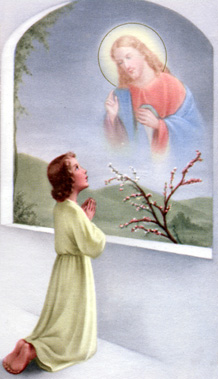 Sickness and suffering are both a mystery Sickness is not of God. It is an evil to the body, though they do bring us closer to God. Some pain is redemptive.

Some people believe that God wants everyone healed. That is not so, though it does remain a mystery as to why some are healed and others are not. That is up to the Divine Providence. I have no answers to that. Some people come to be prayed over and expect me to give a promise of healing. That is one thing I can not do. Jesus Christ alone is the healer. A divine healing is purely a gift healing. I just merely ask.

Some people can only understand what they want to understand. The healing ministry is not a complicated ministry. You must keep yourself with God. One might think this person prays all the time, yes and no. It is not always on your knees, but you must spend time alone with Our God. It is a must, but most of all, you must be an example of God. You must live God and talk to God in all that you do. Use God as your closest friend. You must use Him as a living person, as the Living God that He is. And really you can not get a better friend than God.

He Himself has told us, "I am your friend. I have told you all that the Father has told Me, I've kept no secrets from you." (John 15:15) If we are to believe the Word of God then we must develop this friendship with our God.

As I mentioned above, sickness is not of God. It is part of life. In my life, through my years of sickness, I have learned to separate the physical reality from the spiritual reality. We tend to think life should be fair because God is fair.

God is not of this life and if we confuse God with the physical reality of life, by expecting constant good health, we set ourselves up for disappointments.

If we can have a good prayer life, we will also have a good relationship with God apart from the physical results of our circumstance, and His strength will be with us and we will be able to hang on when the physical reality breaks down. There again, we always think life is not fair. Just how fair was life to Jesus? Speaking for myself, the Cross to Calvary has shown that the basic belief that life is supposed to be fair, is just not so.

My deepest friendship with Jesus became inseparable while I was 100% disabled. I learned about suffering of mind through rejection and persecution and suffering of the heart and physical suffering. Yes, suffering is redemptive. If you offer it, it is also a stairway to Jesus Christ.

In my hard times, I used to place myself with my Beloved Jesus in the Garden of Gethsemane. Alone with Him, just Jesus and me. In your hard times, you can do the same. He will console you and encourage you better than anyone on this earth.

Yes, in times of sickness and suffering, we can become so alone and lonely. But, if you turn to Jesus, He will understand where you are at. God loves you. He is a compassionate God. He is a God of Love. The compassion of God lies beyond human understanding. So anyone who offers a promise of healing in God's name. just to give a sick person or their family hope, is wrong. For healing, sickness and suffering, is a mystery. We must offer prayers and leave the healing to God. For only God Himself has the answer and who are we to question God. Many times we don't have the need to know. We must pray for increase of faith always.

Christian faith is the best policy in the case of sickness and suffering. It takes simplicity of heart. Christian Faith in One God always gives the balance we need in the case of sickness and suffering. Christian Faith will not only give you the balance to bring you through sickness and suffering but with great effect that often surprise anyone. The subject of healing ministry must be approached with great caution, and no promise, but the trust in the Will of Our Blessed Lord.

We must always speak true reality. God will always come through and He will speack through you in a way which is courageous and will build up the faith in the community. In the healing ministry we have a God given talent that we should not abuse. Without entering into a lengthy discussion on this, my own experience, when we pray for God's help, my only belief, the truth is that Jesus Christ is at work.

I see people all the time thinking that one's prayers are the best, or that one is better. Or when this person prays things happen. That's not so. And, we should never encourage people to throw away their medication once they have been prayed over for healing. Unless, there is a real revelation on that point that there was, for sure, a healing from God. If we worked by the Holy Spirit we really don't need to dwell on it, then let us let the Holy Spirit do His work. Let's give Him the room. Let us put our humanity aside.

When there is a physical healing, it is to build up the faith. When a physical healing can be seen, God alone knows how many inner healings have taken place at the same time as spiritual healings. What is God's Will? God alone knows. Let us thank God for what He has given us. Remember, God is under no obligation to heal any of us. When he does do it, He does it out of His love for us.

Peace Be With You
Bernadette G. Cyr